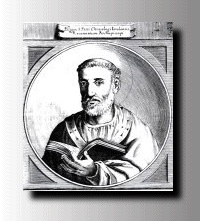 The Lord led the just in right paths, and showed him the kingdom of God.
O God, Who did miraculously select the illustrious Doctor, Peter Chrysologus, to govern and instruct Thy Church; grant we beseech Thee, that we may deserve to have him as an intercessor in heaven, whom we had as a teacher of life on earth.
O Mystery of God's own love,
Once hid, but now from heav'n above
Come down in Christ to save us all
Who were enslaved, in evil's thrall:
For Peter, shepherd of Your sheep,
Your Church's feast of joy we keep;
His faithful witness to Your Word
Made Gospel truth be always heard.
Dispenser of the mystery
Of God-made-man, he sought to be
A preacher fearless in the sight
Of all who searched for heaven's light.
All glory, Lord, to you we bring
As in this summertime we sing
To Father and to Spirit blest;
With Peter, give us endless rest!
LM (88 88), no suggested tune
James Michael Thompson (c) 2009 WLP