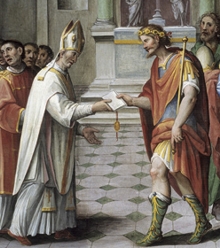 The feast day of Saint Sylvester, located so close to the Christmas liturgical cycle was an early decision of the Fathers of the Church, but it has no relation to the Mystery of the Incarnation. Today's feast Saint Sylveser, according to Pius Parsch is among the oldest in the Church's liturgical life because his memory was among the first to receive public recognition by the laity due to his exemplary holiness and concern for the welfare of the faithful, especially the poor. He's considered to be a confessor of the faith but also acknowledged as a martyr. Sylvester's feast day was for a long time a holy day of obligation.
Sylvester was elected bishop of Rome in AD 314. He succeeded Saint Miltiades who was pope for 2 years (July 2, 311 - 10 January 314) and was succeed by Saint Mark who only served for 263 days. One of the first things he did as pope was to teach the virtue of peace and to live by example.
Notable about Pope Sylvester was that he lived in Rome as its bishop when the Council of Nicea I was held; recall that the Council of Nicea called to order not by the pope by the emperor, who by the way was a friend of Sylvester's. During his papacy the great churches of St John Lateran, Santa Croce in Gerusalemme, St Paul's, St Lawrence's and the first St Peter's were built, among others.
Several things are attributed to Sylvester:
taught the orthodox Catholic faith in the face of heresy and schism
taught that the sign of the Cross was given to him by the Lord
cared for the poor and expected the clergy to do the same
cared for those in the Order of Virgins and Widows
determined that bishops had the exclusive right to consecrate chrism
instructed priests, when baptizing, also were to anoint with chrism
determined that deacons were to wear the dalmatic with a linen maniple
determined that bread was to be consecrated as Eucharist only a linen corporal
determined those ordained should be stable in that order before taking a higher order
instructed the laity should not sue the clergy
instructed the clergy should not sue another in civil court
called the 1st and 7th days of the week the "Lord's Day" and the "Sabbath"
among the first use the word "feria" (a free day) for weekdays of the liturgical calendar without a commemoration.
Some of these things perdure today.
When Pope Sylvester died in AD 335 he served the Church as bishop of Rome for 21 years, 11 months, 1 day. He was first lair to rest in the catacomb of Saint Priscilla and later moved to the church of Saint Symmachus.