These are the ones who, living in the flesh, planted the Church with their blood; they drank the chalice of the Lord and became the friends of God.
O God, who on the Solemnity of the Apostles Peter and Paul give us the noble and joy of this day, grant we pray, that your Church may in all things follow the teaching of those through whom she received the beginnings of right religion.
The antiphon and Collect set the tone by noting our belief: the Church is built on the life, work and sacrifice of two men in collaboration with Christ. It is, as Benedict says, truth is one and symphonic (an idea taken from von Balthasar). How do we live this reality?
Today's solemnity brings with it a wonderful remembrance of how God uses unsuspecting people to witness to his truth and power. The Pope has "traditionally" bestowed the pallium on the new archbishops as a sign of communion with him in serving the Church and a share in the Cross. North America has several new metropolitan archbishops who went to Rome to pray at the tombs of these Apostles and to receive from the Holy Father this beautiful symbol of office.
Two paragraphs below are taken from the Holy Father's homily, but the entire text may be read here: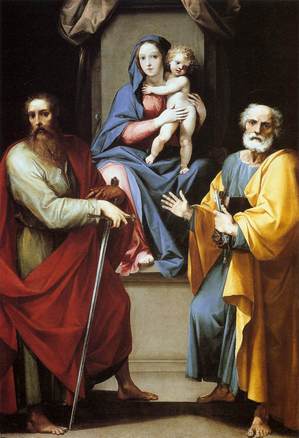 In front of Saint Peter's Basilica, as is well known, there are two imposing statues of Saint Peter and Saint Paul, easily recognizable by their respective attributes: the keys in the hand of Peter and the sword held by Paul. Likewise, at the main entrance to the Basilica of Saint Paul Outside the Walls, there are depictions of scenes from the life and the martyrdom of these two pillars of the Church. Christian tradition has always considered Saint Peter and Saint Paul to be inseparable: indeed, together, they represent the whole Gospel of Christ. In Rome, their bond as brothers in the faith came to acquire a particular significance. Indeed, the Christian community of this City considered them a kind of counterbalance to the mythical Romulus and Remus, the two brothers held to be the founders of Rome. A further parallel comes to mind, still on the theme of brothers: whereas the first biblical pair of brothers demonstrate the effects of sin, as Cain kills Abel, yet Peter and Paul, much as they differ from one another in human terms and notwithstanding the conflicts that arose in their relationship, illustrate a new way of being brothers, lived according to the Gospel, an authentic way made possible by the grace of Christ's Gospel working within them. Only by following Jesus does one arrive at this new brotherhood: this is the first and fundamental message that today's solemnity presents to each one of us, the importance of which is mirrored in the pursuit of full communion, so earnestly desired by the ecumenical Patriarch and the Bishop of Rome, as indeed by all Christians.