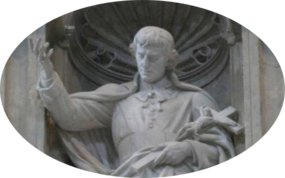 The Church gives us an inspired, perhaps even truly brilliant preacher, as a model of grace. Saint Louis-Marie de Montfort was ordained a priest in 1700; proficient in the thinking of the Church Fathers on the Virgin Mary, Montfort's mission was to preach on Blessed Virgin Mary, the Mother of God, in a period of time of great theological error in France. He's famous for preaching on the Rosary and he created a series of meditations that led to a Consecration to the Blessed Mother. His preaching of Mary was really a work of preaching on the Paschal Mystery. The collect for the Mass tells us that Louis-Marie 'walked the way of salvation and the love of Christ" by "meditating on the mysteries [God's] love" which led to "the building up of [God's] Church."
Montfort was a Third Order Dominican and held a papally given title Missionary Apostolic. He was also a founder of three congregations, one of men and two of women. For some time now there's been movement to have Louis-Marie to named a Doctor of the Church.
We are more aware of Montfort through John Paul's adoption of one of Montfort's phrases, Totus Tuus (totally yours).