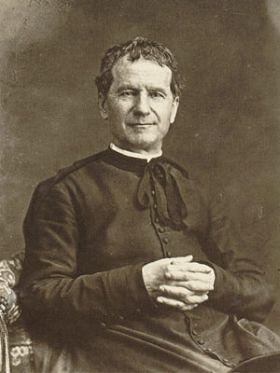 O God, who raised up the Priest Saint John Bosco as a father and teacher of the young, grant we pray, that, aflame with the same fire of love, we may seek out souls and serve you alone.
The devotion to Saint John Bosco is not as known on these shores as it ought to be. He was a brilliant, loving and insightful man. Bosco's confidence in God's ways is a tremendous consolation: he helps me to recognize the signs God places in front of me with clarity.
The Salesian congregation of priests, brothers and sisters is better known in other parts of the world than in the USA. Some say that the popularity of the Jesuits here made covered over the charism of Bosco and the schools his order administered. Not completely sure that is the reason but what is clear to me that not to know about Bosco is an impoverishment. One thing I heard from a Benedictine friend who has taken a shining to Bosco tells me that Bosco's "success" is that if you want to positively affect the lives of students then you have to be involved in the lives of the students. The ivory tower approach is not going to work.
May the Apostle of the Youth, pray for us.