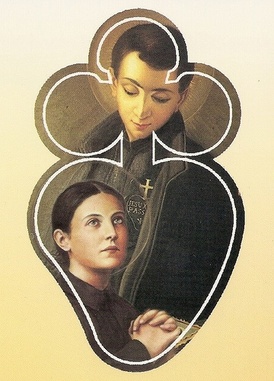 My servant continued with all his heart doing what is just before my eyes.
O God, Who in the design of Your love called Saint Gabriel of Our Lady of Sorrows to live in the mystery of the Cross with Mary, the Mother of Jesus, guide our spirit towards Your Crucified Son so that by participating in His Passion we may achieve the glory of the Resurrection.
Among the young saints of the Church are those who followed the Passionist charism, that is, those who made the paschal offering of Christ on the cross and His sorrowful mother so very central to their. The oblation of Christ crucified is THE Christian spirituality of our day, especially given the suffering many of us endure for the faith and for Saint Gabriel of the Sorrowful Mother is one such figure that we would do well to spend time learning. As the Mass collect above suggests, we are to ask for the grace to participate in the Lord's Passion with the hope of his glory. This is the destiny of all Christians.
At 24 he was stricken with TB and died prior to his ordination. As grace is operative I feel close to Gabriel and ask his intercession for young seminarians even for me not being so young having just turned 41 a few weeks ago. Saint Gabriel's youthful witness to Christ led him to being named a
patron for the youth and seminarians
by Pope Benedict XV in 1920 when he was canonized. The image given here is that of Saint Gabriel healing Saint Gemma, whom she was devoted.
May the Passion of Jesus and the Sorrows of Mary be ever in our hearts!
motto of Saint Paul of the Cross