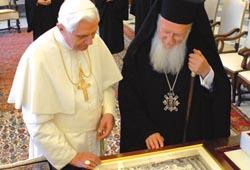 The Patriarch of Constantinople, Bartholomew I, wrote a letter on occasion of the abdication of Pope Benedict. It is a warm letter and testimony to his co-worker in the vineyard. In an era of lots of change in the leadership of many changes, it is interesting to what is said,
It is with regret that we have learned of the decision by His Holiness Pope Benedict to retire from his Throne, because with his wisdom and experience he could have provided much more to the Church and the world.




Pope Benedict leaves an indelible mark on the life and history of the Roman Catholic Church, sealed not only by his brief papacy, but also by his broad and longstanding contribution as a theologian and hierarch of his Church, as well as his universally acknowledged prestige.