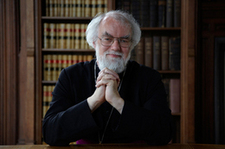 At Lambeth Palace, the home of the archbishops of Canterbury, Rowan Williams, 61, announced his retirement from ministry of Archbishop of Canterbury to take the position of Magdalene College, Cambridge. His new work begins January 2013; he steps down in December. Williams is the 104th Archbishop of Canterbury, a work he's done since 2003.
Williams is known for his kindness, sharp intellect, dedication to striving for harmony among peoples, courage and friendship.
He married Jane in 1981, was ordained a bishop in 1992 and has served widely in ecclesial and academic circles.
The announcement is made here...