Since 1908 the Church has called upon us to join in prayer with other Christians around the world during the Week of Prayer for Christian Unity. We do this work of prayer as an education in hope for spiritual and actual Christian unity realizing that the Holy Spirit is the only one capable of bring unity among various groups of Christians. The proposal for a week of prayer was initiated in the USA by Franciscans of the Atonement Father Paul Wattson and it is held from January 18 - 25. Today the observance is international in scope.
It is generally held that the 1910 World Mission Conference in Edinburgh, Scotland, marked the beginnings of the modern ecumenical movement.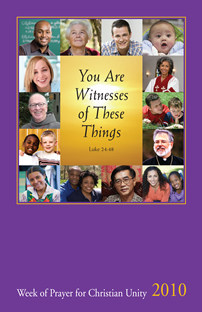 In tribute, the promoters of the Week of Prayer for Christian Unity, the Commission on Faith and Order and the Pontifical Council for Promoting Christian Unity, invited the Scottish churches to prepare this year's theme. They suggested: "You are witnesses of these things" (Luke 24:48).
The 2010 theme is a reminder that as the community of faith those reconciled with God and in Christ, "You are witness of these things"--witness to the truth of the power of salvation in Jesus Christ who will also make real his prayer, "That all may be one...so the world may believe." *Witness gives praise to the Presence who gives us the gift of life and resurrection; by knowing how to share the story of our faith with others; by recognizing that God is at work in our lives; by giving thanks for the faith we have received; by confessing Christ's victory over all suffering; by seeking to always be more faithful to the Word of God; by growing in faith, hope and love; and by offering hospitality and knowing how to receive it when it is offered to us.
Materials to observe the Week of Prayer for Christian Unity are available from the Graymoor Ecumenical and Interreligious Institute, a ministry of the Franciscan Friars of the Atonement.
For more information visit www.geii.org