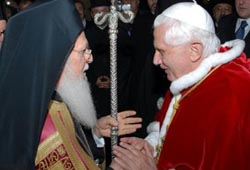 Saint Andrew is the first of the 12 Apostles called by Jesus to follow Him. Today is his feast day, the day traditionally remembered as the day of his death.
Official delegations of prayer and fraternal exchange happen for the June feast of Saints Peter and Paul (in Rome) and for today's feast of Saint Andrew (in Constantinople). The protocol followed is that Patriarch Bartholomew I sends a message and a group to Rome in June and the Pope does the same on November 30 for today's feast. Often there's a series of meetings, discussions, academic exchanges, and a festive meal. Kurt Cardinal Koch and Bishop Brian Farrell, LC, (president and secretary of the Pontifical Council for Christian Unity) represented the Holy Father today.
The meeting was covered by Vatican Radio.
Visit here
.