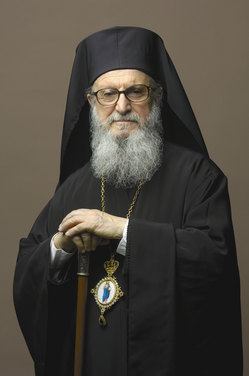 The President of Fordham University, Fr. Joseph M. McShane, S.J. announced Tuesday Feb. 17, a Jaharis Family Foundation gift establishing the Archbishop Demetrios Chair in Orthodox Theology and Culture as part of the Orthodox Christian Studies Program of this renowned Roman-Catholic Jesuit University.
The announcement came at the conclusion of the Sixth Annual Orthodoxy in America Lecture given this year by Fr. Stanley Harakas, ThD, who is the Archbishop Iakovos Professor of Orthodox Theology Emeritus at Holy Cross Greek Orthodox School of Theology. Fr. Harakas' topic "The Future of Orthodox Christianity in America: A Normative Approach" captivated his diverse audience of academics, clergymen, students and laymen. He outlined the threats and pitfalls but also the opportunities of the social and cultural reality in America and suggested ways of what we need to do and ought to do, as Orthodox.
Following the lecture President McShane announced the establishment of the Archbishop Demetrios Chair in Orthodox Theology and Culture through a generous donation of two million dollars by the Jaharis Family Foundation. Fr. McShane welcomed Michael and Mary Jaharis as he expressed his great joy and gratitude. He further said that naming the chair after Archbishop Demetrios is a most deserving honor and that the University was "thrilled that his name (the Archbishop's) and the name of the Jaharis family will forever be associated with Fordham."