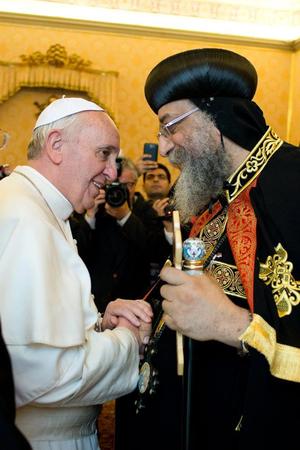 A rare meeting between two Popes, that is, between the Patriarch of the West and the Patriarch of Alexandria happened earlier today in Rome when Pope Francis received Pope Tawadros of Alexandria, who heads the largest Christian Church in the Middle East. The first meeting between the two churches happened 40 years ago to the day with the Servant of God Pope Paul VI and Pope Shenouda III; at that meeting a Christological agreement was signed and a hope expressed to find a path to unity. Tawadros is on his first pilgrimage outside of Egypt since becoming the head of the Coptic Church in November. He is in Italy for 5 days.
Pope Tawadros proposed that 10 May each year should be marked as a day of celebration between the two churches. He also invited Francis to visit his Church, founded by Saint Mark the Evangelist around the middle of the First century.
Here is Pope Francis' address:
For me it is a great joy and a truly graced moment to be able to receive all of you here, at the tomb of Saint Peter, as we recall that historic meeting forty years ago between our predecessors, Pope Paul VI and the late Pope Shenouda III, in an embrace of peace and fraternity, after centuries of mutual distrust. So it is with deep affection that I welcome Your Holiness and the distinguished members of your delegation, and I thank you for your words. Through you, I extend my cordial greetings in the Lord to the bishops, the clergy, the monks and the whole Coptic Orthodox Church.
Today's visit strengthens the bonds of friendship and brotherhood that already exist between the See of Peter and the See of Mark, heir to an inestimable heritage of martyrs, theologians, holy monks and faithful disciples of Christ, who have borne witness to the Gospel from generation to generation, often in situations of great adversity.