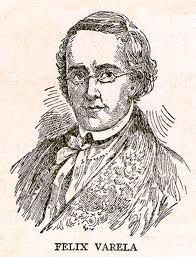 The Congregation for Saints has told Bishop Octavio Cisneros, an auxiliary bishop of Brooklyn that the Servant of God Felix Varela's cause has been accepted by the Pope as a man of heroic and cardinal virtue. He will be given the title "Venerable Servant of God." Cisneros is the vice-postulator of Varela's cause.
Father Varela (1788-1853) was ordained a priest in Havana and came to the USA to serve as a priest. In 1837 he was appointed the Vicar General of New York diocese, the number two in responsibility for a diocese. He founded the first Spanish language newspaper in the USA, the founder of the New York Churches of the Transfiguration and Saint James and was a delegate to Council of Balltimore with Bishop DuBois.
The Cuban American priest worked for the needs of the immigrants, especially the Irish immigrants at time when the Irish were maltreated. Father Varela was an ardent fighter for freedom here in the USA and abroad; he spoke for the freedom for the Colonies, from slavery and for the religious freedom of the Church.
Let's pray that God will soon glorify Father Felix to the Altars.