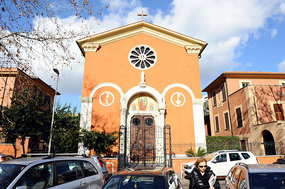 The other day I mentioned that cardinals receive a church in Rome for them to have pastoral solicitude for and to be a parish priest in the Diocese of Rome. The latter is really a fiction because the cardinal rarely has much to do his parish but this a vestige of a time when all cardinals were resident priests of Rome. Cardinal Mahoney never paid too much attention to his Roman church but Cardinal O'Malley shows up to his when he's in Rome.
In time long ago the priests of Rome elected their bishop: this remains true, however, in the sense that a cardinal is inscribed as a priest of Rome and the cardinal enters a papal conclave to elect a bishop of Rome. Cardinal Timothy Michael Dolan is the Cardinal-Archbishop of New York, a Cardinal of the Holy Roman Church and a priest of the Diocese of Rome.
Cardinal Dolan will now, it is hoped, provide some financial assistance to Our Lady of Guadalupe in Rome as he's able.