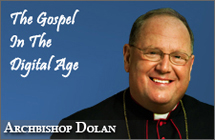 Posted on his blog today, The Gospel in the Digital Age, Archbishop Timothy Michael Dolan wrote a piece on meaning of marriage and family according to natural reason and Catholic belief. His Excellency makes several and crucial points that require our clear attention. A sound-bite understanding of these important issues is insufficient for us.
The stampede is on. Our elected senators who have stood courageous in their refusal to capitulate on the state's presumption to redefine marriage are reporting unrelenting pressure to cave-in.
The media, mainly sympathetic to this rush to tamper with a definition as old as human reason and ordered good, reports annoyance on the part of some senators that those in defense of traditional marriage just don't see the light, as we persist in opposing this enlightened, progressive, cause.