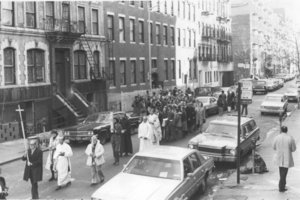 Today is the 32nd anniversary of death of the Servant of God Dorothy Day. The Benedictine Oblate from Brooklyn Heights, NY, who is remembered for her conversion to Christ and His Church and with Peter Maurin founded The Catholic Worker Movement.
In recent days we've learned that the bishops of the USA are standing behind Day's cause for canonization advancing it to the next canonical stage. While the process may be protracted for some, it is a good and substantial process to ascertain the claim of sanctity of the person in question. As an editorial, I tend to think 30 years is a good amount of time between the death of a person and the study process commencing; in my humble opinion I think it was far too short of time for Mother Teresa and Pope John Paul II beatifications; both are saints in my opinion, but I think the process can't be shortchanged because of cosmic popularity.

The Archdiocese of New York is in charge of the cause of canonization. You can contact the office at 212-371-1000, ext. 2474.