This is old news by now, but the Agenzia Fides reported back in late January that the cause for canonization for Father Matteo Ricci is again active. Ricci always held a special place in my imagination partly because he was (and continues to be) maligned by ideologues. I noted Ricci's 400th anniversary on this blog back in May.
The sainthood cause for 16th-century Jesuit missionary Matteo Ricci was reopened on January 24, following Mass at the Cathedral of San Giuliano in the diocese of Diocese of Macerata-Tolentino-Recanati-Cingoli-Treia, where he was born.
The process of beatification originally launched in 1984 when he was named a Servant of God. Bishop Claudio Giuliodori of Macerata said that although the cause stalled soon after it was opened, "these 25 years have not passed in vain because the Lord has given us clear signs of a deeper understanding of the prophetic intuitions of Father Matteo Ricci."
Father Matteo Ricci was born in 1552 in the Marche town of Macerata. He entered the Society of Jesus and was missioned by his superiors to study mathematics and astronomy before leaving for the Far East at the age of 26.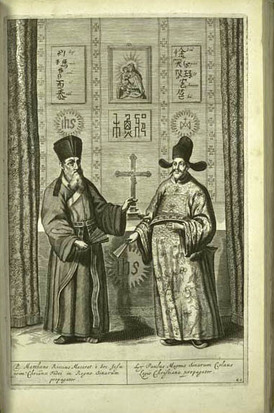 Ricci's itinerary included four years in Goa (west coast of India) before traveling to China. On mainland China he settled in Zhao Qing in the southernmost Guangdong Province; he was proficient in studying Chinese. During his time there he produced his global "Great Map of Ten Thousand Countries," which revolutionized the Chinese understanding of the rest of the world. A copy of the map is on display at the United States Library of Congress.
In 1589 Father Ricci moved to Zhao Zhou and began sharing European mathematical discoveries with Chinese scholars. He became known as "Li Madou" and was renowned for his extraordinary memory and knowledge of astronomy. He eventually became a member of the court of Ming Emperor Wanli.
In 1601 he was allowed into the Forbidden City of Beijing, where he worked until his death in 1610.
Ricci's postulator (the person promoting the inquiry for the sainthood) is Jesuit Father Anthony Witwer, who is coordinating and supervising a historical commission that has been established to collect all the writings and documents attributed to Father Ricci, along with those that reference him in publication. The commission's work will conclude with a critical study on the writings of Matteo Ricci along with a judgment as to the authenticity and value of documents on him.