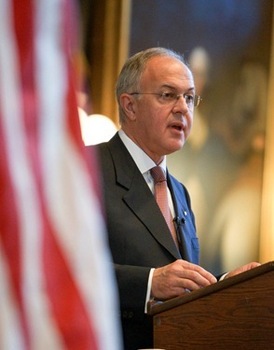 Carl A. Anderson, the Supreme Knight of the Knights of Columbus, gave a lecture in Boston's famed Faneuil Hall on President John F. Kennedy's faith known in the inaugural address. The President was a KofC member. Anderson uses history, philosophy and theology to demonstrate that our human rights come from God, thus they are sacred rights. The location of the talk was brilliant given the tensions between Church and secularism. Anderson's talk follows:
Your Eminence, Cardinal O'Malley; Your Excellencies, Archbishop Wenski, Bishop Lori and Bishop Kennedy; Reverend Fathers; Seminarians; Members of the Board of Directors and State Officers of the Knights of Columbus; Members of the Boston Leadership Forum; Brother Knights; Ladies and Gentlemen - fellow Citizens...
Here at Faneuil Hall, in this historic setting, the injustices of the colonial system were first addressed. It was here that the Sugar Act was protested more than a decade before the Declaration of Independence. Here that the Tea Tax was protested. And here the Boston Massacre was recounted. Here too was born the idea that there should be "no taxation without representation."