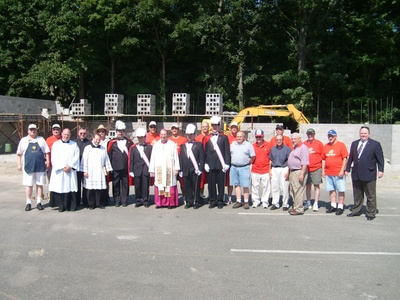 On Saturday August 16th Bishop Lori blessed the grounds of the new Council 185 Meeting and Storage building which will be named Moritz Hall.
The Moritz Hall derives its name from PGK Len Moritz who has been a major force assuring completion of this four year project.
The hot day was part of a Saint Rose of Lima (Newtown, CT) hosted Fan the Fire Youth Rally. Over 600 teens from all over the diocese spent the day participating in renewal, witness and confession. The day ended with a sunset Mass celebrated by Bishop Lori, Monsignor Robert Weiss and a host of concelebrants. Vivat Jesus!