The cause for beatification and eventual sainthood of Father Michael J. McGivney, founder of the Knights of Columbus, took another step on September 22, 2009, with the submission of a supplemental report on a potential miracle attributed to the priest's intercession.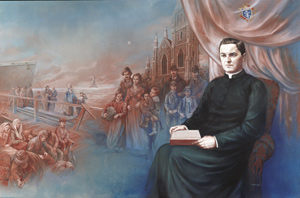 The Knights of Columbus announced today that officials from a supplemental tribunal of the Archdiocese of Hartford -of which Fr. McGivney was a parish priest- formally sent a new report to the Vatican's Congregation for the Causes of Saints through Dr. Andrea Ambrosi, the current postulator of McGivney's cause. The information gathered by the tribunal included testimonies from witnesses to the supposed miracle as well as the statements of several medical doctors about the circumstances surrounding the reported miracle. Dominican Father Gabriel B. O'Donnell, the current vice-postulator and former postulator, has worked on the cause for a number of years with the assistance of a variety people, not least was Millie Millea, the former secretary at the McGivney Guild.
In the context praying Sext (midday prayer), the brief ceremony in which the new report was signed and presented to Archbishop Henry J. Mansell was attended by Supreme Knight Carl Anderson, other Supreme Officers and other Knights of Columbus officials, three relatives of Father McGivney and a number of archdiocesan officials.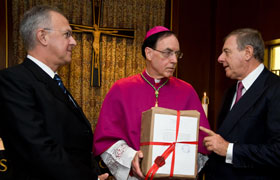 The submission of the new report "marks an important step forward. The Vatican's Congregation for the Causes of Saints will now have valuable additional testimony that clarifies and adds significantly to the original submission," Supreme Knight Carl Anderson said.
"Father McGivney's beatification would be an important event," Anderson added, "not only for Knights of Columbus, but for the many thousands of parish priests who quietly do the Lord's work in parishes each day and regard him as an outstanding example for priests everywhere. In this 'Year for Priests' it is an especially appropriate step forward." When beatified, McGivney will be the first US diocesan priest beatified.
The cause for Father McGivney's sainthood was opened by Hartford Archbishop Daniel A. Cronin in December 1997. In 2000, the cause was presented to the Congregation for the Causes of Saints; Pope Benedict XVI declared him "Venerable Servant of God" on March 15, 2008.
Father McGivney founded the Knights of Columbus in 1882 and died on August 14, 1890 at the age of 38. At the time of the founding of the Knights of Columbus he was a curate at Saint Mary's Church (New Haven, CT).
For pictures of the event see this link.
[this articled was first published at CNA and edited for clarity]