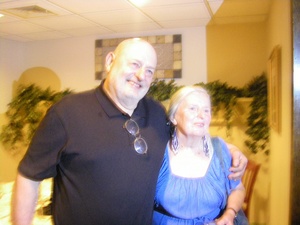 Dad celebrates his 70th birthday today!
I can't believe he's 70! He's shown here with his sister, Evelyn.
Birthday blessings!
Dad leaves on his newly made Flying Merkel motorcycle for a cross-country trip commemorating
the Cannonball Run
, a race of pre-1916 motorcycles. The group departs from Kitty Hawk, NC and finishes in Santa Monica, CA.
Dad's Merkel is completely made by him (a replica of a 1910 original), a single speed cycle.