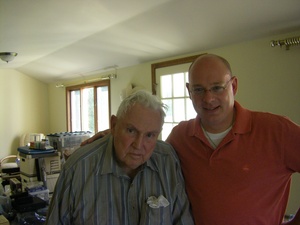 You never know who will bless a house. Today, a friend's house was blessed by his uncle, Archbishop Peter Leo Gerety, emeritus archbishop of Newark. The Gerety's nephew, Phil, was a most gracious host today.
The archbishop is the sometime bishop of Portland in Maine and the once a upon a time founding pastor of Saint Martin de Porres Church, New Haven, CT. His parish work in New Haven is legendary given that his ministry was among the African American Catholics for 24 years (his only pastorate until he was nominated bishop in 1966). Archbishop Peter is a well-known prelate of the Church for his many years of service to the same in an era of great upheaval. At the moment he's the oldest living bishop in the US (he turned 97 on July 19th) and the 12th oldest bishop in the world. His anniversary stats this year include being a priest for 70 years and a bishop for 43. In addition to his daily routine of prayer and living, Archbishop Peter reads about two books a week and periodically celebrates the sacrament of Confirmation but he does have to nurse a sore hip.
A delightful part of the afternoon was had over a delicious lunch talking about the archbishop's seminary training with the
Sulpician Fathers
in Issy-les-Moulineaux, France.
Say a prayer for Archbishop Peter's continued health of mind and body. He's a very delightful person with a great heart and good humor.