Much has been said about Anthony Cekada's book Work of Human Hands, some of the critique is lazy, or rigidly steadfast to one's limp opinion. Nothing is so relevant as information, and nothing so problematic as ignorance (being "untrained"). My hope is that we'd not be too preoccupied by our our thinking; I have confidence that Truth can be revealed in honest thinking and dialogue. The sacred Liturgy, because of its import in our worship of the Triune God, needs to be faithful to Christ and to the Tradition the Church. Cekada's work is a sizable and it deserves attention. Because of my interest in the sacred Liturgy I am re-posting the book review originally posted on the New Liturgical Movement blog. I am grateful to Dr Alcuin Reid for his tour of the work and the author, and to Shawn Tribe for posting Reid's review.
Anthony Cekada, Work of Human Hands: A Theological Critique of the Mass of Paul VI, Philothea Press, West Chester, Ohio 2010.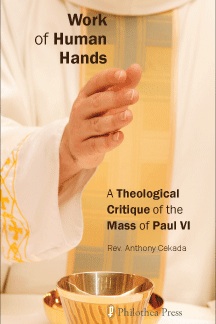 I have long been in Father Cekada's debt, for it was his booklet The Problems with the Prayers of the Modern Mass that alerted me almost twenty years ago to the significant theological difference between the pre-conciliar and post-conciliar Roman Missals. Work of Human Hands is by no means so succinct a publication. It is a substantial attempt to demonstrate profound theological rupture between the two, and more. It deserves serious attention.

Some will dismiss this study because Father Cekada is canonically irregular and a sede vacantist. Whilst these are more than regrettable, ad hominem realities are not sufficient to dismiss this carefully argued and well researched work. We must attend to his arguments on their merits.

The principal thesis is that "the Mass of Paul VI destroys Catholic doctrine in the minds of the faithful and in particular, Catholic doctrine concerning the Holy Sacrifice of the Mass, the priesthood and the real presence," and that it "permits or prescribes grave irreverence." His secondary thesis is that the Mass of Paul VI is invalid. His practical conclusion is that "a Catholic may not merely prefer the old rite to the new; he must also reject the new rite in its entirety. The faith obliges him to do so." These strong, even extreme, positions may themselves repel readers. But again, they must be examined.