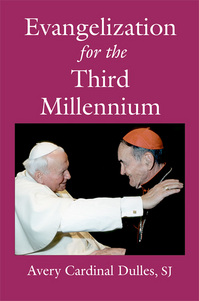 Cardinal Avery Dulles is still producing intellectual stimulation. Due to be released next week is
Evangelization
for the
Third Millennium
(Paulist Press), the final work that he had already in progress during what became the Cardinal's final months.
In her Preface to this anthology, Cardinal Dulles' longtime colleague, administrative & research assistant and former student, Sister Ann-Marie Kirmse, says that Dulles' work explores the theme of evangelization based on the seminal work of Pope Paul VI and later on the work Pope John Paul II on the same topic.
Avery Cardinal Dulles, SJ, died on December 12, 2008.