Much is being made of Peter Seewald's brilliant interview of Pope Benedict XVI,
Light of the World: The Pope, the Church, and the Signs of the Times
(2010).
The recent splash of news about this book is rather interesting and pathetic at the same time. Interesting because there are some great things the Pope says theologically about a whole host of things; pathetic because so many people are focussed on what the Pope said about latex. In recent years I've not see THAT much interested in the Pope's ideas on sex, sexuality and salvation through condom use. AND the confusion runs rampant to the point that a Vatican clarification had to be issued on what the Pope said. Catholic News Service
ran the Vatican statement
and making sure everyone was on the same condom --rather, page.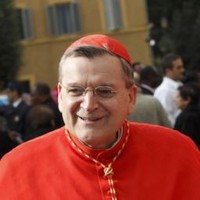 On November 22, Cardinal Raymond Leo Burke spoke briefly of the Pope's recent work when he answered John Burger's questions. Burke, prefect (head) of the Church's highest court, the Supreme Tribunal of the Apostolic Signatura, is one of 24 new cardinals created by Benedict XVI on November 21. The cardinal is a native of Wisconsin, trained in Canon Law, and the bishop of La Crosse, WI, and the former archbishop of St Louis, MO.
Popular blogger Jimmy Akin wrote two noteworthy pieces, "The Pope Said WHAT about Condoms???" which
can be read here
and
"New Developments on the Pope and Condoms"
can be read here
.