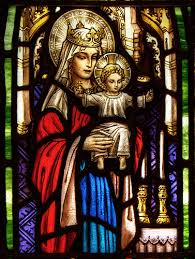 Today, is the feast of Our Lady of the Atonement. Under her patronage do the Franciscan Friars and Sisters of the Atonement live their vocation. I was happy to celebrate with a favorite Atonement Sister today!
The Founder of the Franciscans of the Atonement, the Servant of God Father Paul, said of Mary's part in the Atonement:
"She is necessarily "of the Atonement" since it was the will of God that she play a necessary part in the atonement or redemption. This is not to say that without her man would have remained unredeemed but that God's plan gave her a large share in the redemptive work...Mary, although her part is in no way similar in nature to that of her divine Son's, cooperated with Jesus Christ, as no other creature did, in his work of reconciling man with God. Her claim to this high title rests most solidly on the fact that she consented to become, and became the mother of the Redeemer; that she suffered with Jesus during the passion; and that all graces merited for mankind by Christ have come to us through Mary.
When we, therefore, give to our Blessed Mother the title of Our Lady of the Atonement we mean: Our Lady of Unity. As she sits enthroned, as the great wonder of heaven, wearing a crown of twelve stars, clothed with the sun, the moon her footstool, she presents to the universe the highest possible approach of a creature to intimate and exalted union with God.