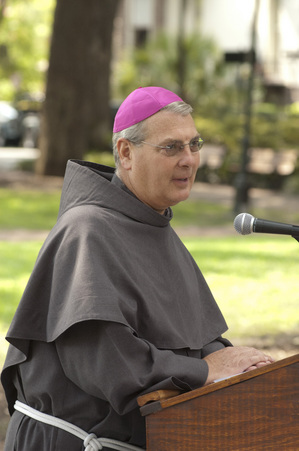 The new
Bishop of Savannah
's appointment of Conventual Franciscan Father
Gregory John Hartmayer
, 59, should not go without notice. He's one of two Conventuals called to serve the Church as bishops, the being the Bishop of La Crosse, WI.
Hartmayer is a native of Buffalo, a Friar, and has been a priest for 32 years.
Bishop-elect Gregory John replaces Bishop J. Kevin Boland who has for 16 years as Bishop of Savannah. Boland's brother was the Bishop of Kansas City-St Joseph, MO. Bishop-elect is the 14th bishop, the leader of 77K Catholics in 90 counties.
Today, the diocese is 160 years old.
Bishop-elect Gregory John is well-respected and acknowledged as a good shepherd, a loyal son of Saint Francis of Assisi.
An interview with the Bishop-elect produced by the Conventuals
is here
.
Pax et bonum.