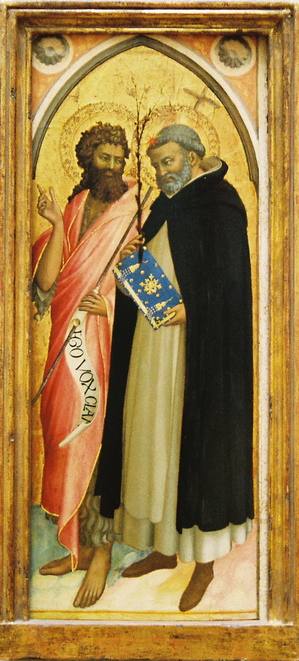 Known in the Dominicans as Brother John from
Fiesole
(c. 1395-February 18, 1455), we know him best as Fra Angelico.
In declaring Fra Angelico the Patron of Catholic Artists in 1982, Pope John Paul II said: "Angelico was reported to say "He who does Christ's work must stay with Christ always". This motto earned him the epithet "Blessed Angelico", because of the perfect integrity of his life and the almost divine beauty of the images he painted, to a superlative extent those of the Blessed Virgin Mary."
Fra Angelico's grave stone in the Dominican Church of Santa Maria sopra Minerva (Rome) the epitaph says:
When singing my praise, don't liken my talents to those of Apelles. Say, rather, that, in the name of Christ, I gave all I had to the poor. The deeds that count on Earth are not the ones that count in Heaven. I, Giovanni, am the flower of Tuscany.
When in Rome, I pay a visit to the grave of Fra Angelico to pray for the Catholic artists.