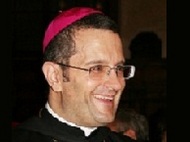 The 191st
abbot of Monte Cassino
Pietro Vittorelli, 50, needs our prayers for his recovery from a stroke he suffered recently. He's recovering and doing therapy at a clinic in Switzerland.
Born in Rome, Abbot Pietro graduated in 1989 from La Sapienza (Rome) and later that year he entered the Archabbey of Monte Cassino. He was ordained a priest in 1994 following studies at Sant'Anselmo; Dom Pietro served as novice master, a consulter in bioethics as well as authoring articles in the area of Church's Social Doctrine.
With the move of the Abbot-bishop Bernardo D'Onorio to the Archdiocese of Gaeta, Dom Pietro was elected abbot in 2007.
Members of Communion and Liberation ought to make Dom Pietro's intention for good health particular in the daily prayer since the founding of the Movement has its spiritual paternity with a prior abbot-bishop of Monte Cassino, Dom Martino Matronola (+1994). We in CL are still inspired by the Rule and charism of Saint Benedict.
Saint Benedict and all Benedictine saints and blesseds, pray for Dom Pietro and us.