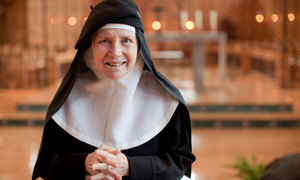 Benedictine nuns typically don't go to the Oscars. For that matter, high profile actresses don't consecrate themselves as Benedictine nuns. Dolores Hart did both.
Dressed in the traditional Benedictine habit of the
Abbey of Regina Laudis
of Bethlehem, Connecticut, Mother Dolores Hart was being considered for a short film Oscar for "God Is The Bigger Elvis."
The film debuts on April 5 on HBO.