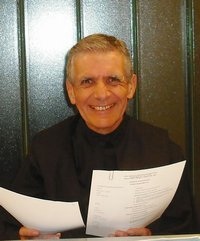 Father James Wiseman, 66, was elected the new and fifth abbot of
Saint Anselm's Abbey
, Washington, DC Thursday. Dom James will serve for an eight year term as abbot. He replaces the Prior Administrator Simon McGurk, a monk of Belmont Abbey in the UK.
The new abbot's been called to serve his community in a variety of ways since his profession in 1966: priesthood (1970), abbot (1975-1983), novice master (1983-1994) and prior (1990-2006). In fact, Dom James has been elected as abbot for the second time; the first time around he was the second abbot.
Abbot James
teaches theology at Catholic University of America, and has done so since 1985, and at the
abbey's school
since 1969. Since 2007, he's held the rank of ordinary professor at Catholic University.
He has served twice as chair of CUA's theology department, and for a period of time as an associate dean. James Wiseman has written or edited six books and more than 30 published articles. He's also chaired the
Monastic Interreligious Dialogue
, a collection of monks and nuns interested in questions of interfaith relations. For 12 years Dom James edited the
Bulletin of Monastic Interreligious Dialogue
.
Saint Anselm Abbey is one of three Benedictine abbeys in the USA of the
English Benedictine Congregation
, there are a total of 13 EBC houses of monks. The others being Saint Gregory the Great (Portsmouth, RI) and Saint Louis (St Louis, MO). The Benedictine monastic community was founded in 1923 Father Thomas Verner Moore and some companions. In 1961, Blessed Pope John XXIII gave the Benedictine community the rank of an abbey. Today, there are 15 monks at Saint Anselm's.
Through the intercession of Saints Benedict, Scholastica and Anselm, and Father Luigi Giussani, may the Blessed Trinity give Abbot James the wisdom and love to serve well and prudence. Especially offer your prayers for the monastic community as it continues the work of deepening their faith and giving clear witness to monastic witness of the Gospel. There's is an unique vocation in the Nation's heart.