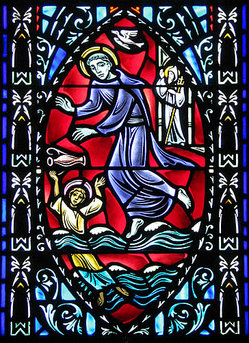 Today is the feast of the first companions of Saint Benedict of Norcia, Saints Maurus and Placid. The traditional blessing of the sick calling upon Saint Maurus' intercession follows. You may not have a relic of the True Cross or relic of Saint Benedict to you available to you, so the priest should use a crucifix and the Saint Benedict Medal.
Before the blessing is imparted, the relic of the true Cross of our Lord or the medal of Saint Benedict is exposed, at least two candles having been lit. The Act of Contrition and firm confidence should then be excited in the sick person, so that through the merits and intercession of Saint Benedict and Saint Maurus, if it should please God, health may be obtained. Three Our Fathers, Hail Marys and Glory be's are recited in honor of the Blessed Trinity.
Then a priest or deacon, having put on a stole, and with his right hand holding up the relic or the medal of Saint Benedict before the sick person, says the following prayers:
V. Benediction and glory, and wisdom, and thanksgiving, honor and power and strength to our God forever and ever.
R. Amen.