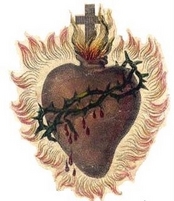 When they came to Jesus, and saw that he was already dead, they did not break His legs; but one of the soldiers opened His side with a lance, and immediately there came out Blood and Water.
(Magnificat antiphon, S. Heart feast)
Since June is the month of the Sacred of Heart of Jesus (and last Friday we observed the liturgical memorial of the the SH) I propose praying the
Litany of the Sacred Heart
. Friday is a day on which we prayerfully recall the Lord's death and this is apt to pray this Litany. Pray it for bishops, priests, deacons and seminarians.