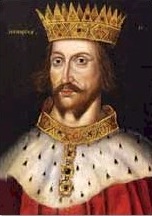 God of might and power, you bestowed many gifts upon Saint Henry and turned him from the cares of an earthly kingdom to a concern for heavenly things. Hear his prayer and grant that amid the changes and uncertainties of this life we may hasten to you with undivided hearts.
Today's saint, Henry II, is one of the few monarchs admitted to the canon of saints. Emperors along with civil and canon lawyers don't seem to be too plentiful among the communion of saints. Henry was in fact an emperor, a husband and a Benedictine oblate. Throughout his life Henry devoted himself to the evangelization of peoples, the support of the Church (materially and spiritually), and is known to have attended to his spiritual life by being faithful to
lectio divina
, praying the Divine Office and the sacred Liturgy, and doing works of mercy and charity for the poor and marginalized. He is reported to have lived very chastely with his wife. Also important for us here is the fact that as king, Henry followed the
Rule of Saint Benedict
with a degree of seriousness that was rather unheard of, even among the monks and nuns. As Saint Benedict lived his earthly life and enjoined on his followers a sense of attentiveness to the reality of the final judgment, Henry conformed his life to the same: as Benedict had a concern for the welfare of brothers, he also instilled in them a heightened sense of Christ's final judgment, and so did Henry. Do we?