The Church is silent. The Lord is dead; His mother and the Beloved disciple have buried the Lord. We carry on in sorrow, our hearts are quiet and searching for the one who made the promise that things would be different if we believed in Him. Holy Saturday is a distinct day in the Church. Good Friday totally transforms us from something old to something new, this is a time of patient awareness that it is not business as usual. If it is, if we can't see that our real lives are not the same, then we need to beg the Holy Spirit and the Blessed Mother to show the reasons why life is different now with Jesus crucified and in the tomb.
Pope Benedict's meditation at the Colosseum lst evening gives us focus: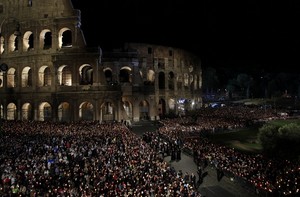 This evening, in faith, we have accompanied Jesus as he takes the final steps of his earthly journey, the most painful steps, the steps that lead to Calvary. We have heard the cries of the crowd, the words of condemnation, the insults of the soldiers, the lamentation of the Virgin Mary and of the women. Now we are immersed in the silence of this night, in the silence of the cross, the silence of death. It is a silence pregnant with the burden of pain borne by a man rejected, oppressed, downtrodden, the burden of sin which mars his face, the burden of evil. Tonight we have re-lived, deep within our hearts, the drama of Jesus, weighed down by pain, by evil, by human sin.