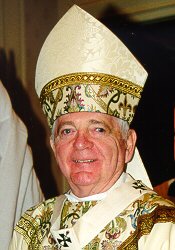 The Most Reverend Daniel A. Cronin, Archbishop Emeritus of Hartford, is coming to East Haven on Thursday, December 6, 2012 to preside and preach during an Advent Evening of Reflection, with a focus upon the "Year of Faith."
The presentation begins at 7:00 PM and takes place at Our Lady of Pompeii Church, 355 Foxon Road, in East Haven.
The reflection will be offered in the context of a Holy Hour, to also include prayers, readings from Scripture, and the Adoration of the Blessed Sacrament.
Join us for prayer and let friends know.