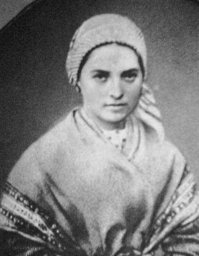 The yearly Communion and Liberation Mass was celebrated earlier this evening by our friend Bishop Peter A. Rosazza, auxiliary bishop emeritus of the Archdiocese of Hartford, at Saint Mary's Church, New Haven, CT. His homily focused on the young girl that had the vision of Our Lady of Lourdes, Saint Bernadette Soubirous.
The Sacrifice of the Mass is celebrated for the good of Communion and Liberation --that is, so that it remain faithful to the charism given it by the Holy Sprit and articulated by its founder, Monsignor Luigi Giussani
and
for the peaceful repose of the soul of Monsignor Giussani.
2011 recalls for us that today is the 29th anniversary of Pope John Paul II's approval as a valid charism for the Church. It is also the 6th anniversary of Giussani's death.