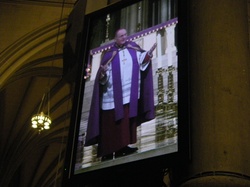 Earlier this afternoon at St Patrick's Cathedral, hundreds of people gathered to formally state their intention to receive their sacraments of initiation at the Easter Vigil. The Church of Saint Catherine of Siena has three men intending to receive the Sacrament of Confirmation. We joined 67 other parishes in the Archdiocese of New York for the "Rite of Calling the Candidates to Continuing Conversion."
The Most Reverend Archbishop Timothy Michael Dolan, archbishop of New York, presided at an hour long ceremony in which sacred Scripture was proclaimed and preached, prayers of supplication prayed and the candidates prayed over by His Excellency. Calling down the Holy Spirit asking for the grace of conversion was the goal.
Several times in his homily Archbishop Dolan echoed the words of Saint Peter to Jesus, "Lord, it is good for us to be here." Yes, indeed, it for all of us to be here. Where else would one find happiness and salvation but from the hands of Jesus? No where but in the supernatural family of the Church. Dolan expressed his gratitude to God for the gift of intimacy that He gives to all of us. Likewise Dolan noted that the Holy Spirit has placed within the hearts of all those in attendance the consolation that in the Catholic Church there is truth, beauty and goodness.
All around the world people are seeking full communion in the Church and/or completing sacramental preparation is a beautiful sign that Faith in Jesus Christ and confidence that the Church is His sacrament is thriving. Today, we see the faith manifest at the gatherings like the one at St Patrick's. At the Church of Saint Catherine of Siena (NYC) three are being Confirmed: Josh, Lawrence and Matthew. Let's beg the Holy Spirit for His abundant gifts to be poured out on these fine people.