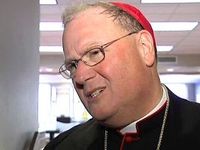 60 Minutes
aired Morely Safer's interview with
Archbishop Timothy M. Dolan
tonight. Watch
Safer on Dolan
.
This is a profile of a man who is interesting and does interesting things. He's affable, joyable, personable, cigar smoking with an eloquent defense of Catholic dogma and belief.
If you want to know more about what the "American Pope" thinks gay marriage, politics, etc, watch
60 Minutes Overtime
.
Morely Safer comes at the interview with what I and others will call a secular, modernist viewpoint and is dismissive of the Archbishop without objectivity nor does he evoke from the Archbishop a clarity of thought. Safer, 79, freely admits that as a man and as a Jewish he wants to know more because "these type of men" are good company. Good. I agree. But I had hoped that Safer would have done a better job getting at substantive theological and philosophical foundations of the Catholic Church.
60 Minutes opened a few interesting doors into the person and ministry of the Archbishop of NY. But the report also veered into sentimentality that is thin as gruel. One does not have to sell church! Clear Catholic teaching is not based on polls and trends. Truth stands on its own two feet.