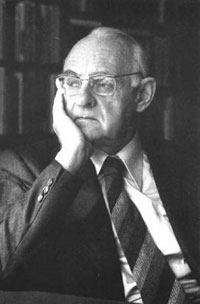 Just two days before he was to receive the cardinal's red hat from Pope John Paul II (an honor he declined to accept before) the Swiss theologian Father Hans Urs von Balthasar died. He was preparing to celebrate the morning Mass when the Lord called him home.
Von Balthasar was a prolific author of articles and books. He's widely known as the kneeling theologian, the starting point from he believed theology ought to be done. With Cardinals Henri de Lubac, Walter Kasper and Joseph Ratzinger he founded the Communio journal (which is published in a numerous languages).
O Lord, we pray Thee that the soul of Thy priest. Thy servant Hans Urs von Balthassar, which, while he abode in this world, Thou didst adorn with sacred gifts, may ever rejoice in a glorious place in heaven. Amen.
A short biography of Father von Balthasar can be
read here
.
Those wanting a fine introduction into the thinking of Hans Urs von Balthasar ought to read Jesuit Father Edward T. Oakes' book, Pattern of Redemption.