This is the summary of the Pope Benedict's catechesis on Saint Paul for Wednesday, 27 August 2008. Here is the full text of the catechesis as published on Zenit.
Online resources for the Year of Saint Paul can be found at the Vatican website, the Basilica of Saint Paul Outside the Walls, the U.S. Bishops Committee on Divine Worship and from Our Sunday Visitor.
Pope said:
Today's catechesis presents the life of Saint Paul, the great missionary whom the Church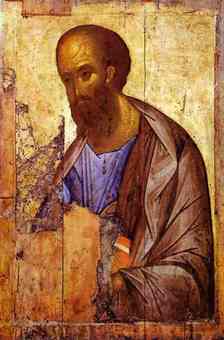 honours in a special way this year. Born a Jew in Tarsus, he received the Hebrew name "Saul" and was trained as a "tent maker" (cf. Acts 18:3). Around the age of twelve he departed for Jerusalem to begin instruction in the strict Pharisaic tradition which instilled in him a great zeal for the Mosaic Law. On the basis of this training Paul viewed the Christian movement as a threat to orthodox Judaism. He thus fiercely "persecuted the Church of God" (1 Cor 19:6; Gal 1:13; Phil 3:6) until a dramatic encounter on the road to Damascus radically changed his life. He subsequently undertook three missionary journeys, preaching Christ in Anatolia, Syria, Cilicia, Macedonia, Achaia, and throughout the Mediterranean. After his arrest and imprisonment in Jerusalem, Paul exercised his right as a Roman citizen to appeal his case to the Emperor. Though Luke makes no reference to Nero's decision, he tells us that Paul spent two years under house arrest in Rome (cf. Acts 28:30), after which--according to tradition--he suffered a martyr's death. Paul spared no energy and endured many trials in his "anxiety for all the churches" (2 Cor 11:28). Indeed, he wrote: "I do everything for the sake of the Gospel" (1 Cor 9:23). May we strive to emulate him by doing the same.