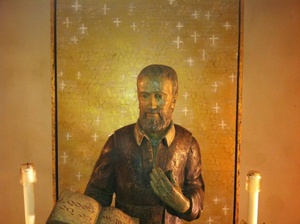 Father, you continually raise up your faithful to the glory of holiness. In your love kindle in us the fire of the Holy Spirit who so filled the heart of Philip Neri.
In so many ways Saint Philip Neri is a saint, a witness to the work of the Holy Spirit in this world. This fact is borne in the activity of his life for the salvation of souls. He was a close friend of the Benedictines, Dominicans, and the Jesuits. A well-sought after confessor and preacher, he drew the keen attention of Popes, bishops and saints. Who can't relate to a man who had a keen sense of humor, a love for all people, especially the youth, and a miracle-worker. The Church has named Saint Philip one of the patrons of Rome.
My love for Philip Neri leads me to hope that Connecticut, preferably New Haven, will see an Oratory in the future.
Among other things today, I watched the 2010 film "Saint Philip Neri: I Prefer Heaven," with Gigi Proietti, Adriano Braidotti, Francesco Salvi, and Roberto Citran. The director is the wonderful Giacomo Campiotti whom I met last fall in NYC while he was stateside promoting another film of his.
A brief biography of Saint Philip Neri.