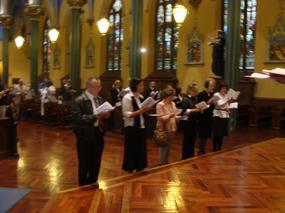 Many of the religious orders have what is called a Third Order Laity, or some such name for the laity who are closely connected spiritually and morally to an Order and continue to live their lives according to the vocation they've been given: the single life, married life or secular priesthood.
As a point of comparison, the Benedictine monasteries have Oblates --I am one--, the Franciscans have the Secular Franciscan Order, the Jesuits have nothing (by design of Saint Ignatius) and the Dominicans have what's called today, The Fraternity of Saint Dominic.
On Good Shepherd Sunday, April 29, the New Haven, CT Dominican laity at Saint Mary's Church professed by vow several people and admitted 6 to the novitiate, a period of time of testing one's vocation to the Fraternity and learning the Four Pillars of Dominican life (prayer, study, community and service).
May Saint Dominic richly bless these new sons and daughters.