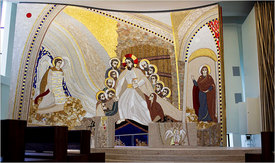 Sacred Heart University in Fairfield, CT enters into rites dedicating the Chapel of the Holy Spirit, today. Rarely do we have the opportunity to newly construct a marvelous work of art given for God's greater glory and His worship such as Sacred Heart's Chapel of the Holy Spirit. Having
Father Rupnik
's commission in Connecticut gives us a special link to the work of the Church in calling us to deeper union with God. Rupnik's mosaic work had its first world dramatic epiphany in Apostolic Palace's Mother of the Redeemer Chapel (Vatican City State) due to Pope John Paul being struck to the beauty wrought by Rupnik and his colleagues at the Centro Aletti. Today, we are struck by the same beauty drawn more deeply into the mystery, into radical holiness by another dramatic manifestation of the mosaics.
I
previously mentioned
Rupnik's work in the USA.
The
NY Times
features the liturgical art of the chapel.
I have to note that Sacred Heart's mosaics are not the first for the artist in the USA: Father Rupnik's first work was installed in the Holy Family Chapel at the central office of the Knights of Columbus, New Haven, CT. And like today's ceremonies of dedication, the mosaics in New Haven were blessed for liturgical use by Bishop Lori, the same who is doing consecration today.