The Pope began Advent 2010 this evening --it's evening in Rome-- in the Vatican Basilica by celebrating First Vespers of Advent in the Presence of the Blessed Sacrament.
"To you, my Lord God, my eyes are turned, my refuge, protect my life"; "Here the Lord comes, and with Him His great saints"; "The Lord will come in glory; every man will see that He is the Savior." With these words our preparation has begun.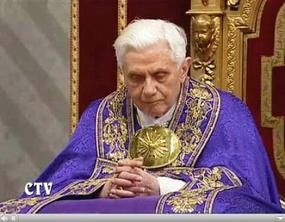 The Pope's homily:
With this evening's celebration, the Lord gives us the grace and joy of opening the new liturgical year beginning with its first stage: Advent, the period that commemorates the coming of God among us. Every beginning brings a special grace, because it is blessed by the Lord. In this Advent period we will once again experience the closeness of the One who created the world, who guides history and cared for us to the point of becoming a man. This great and fascinating mystery of God with us, moreover of God who becomes one of us, is what we celebrate in the coming weeks journeying towards holy Christmas. During the season of Advent we feel the Church that takes us by the hand and - in the image of the Blessed Virgin Mary - expresses her motherhood allowing us to experience the joyful expectation of the coming of the Lord, who embraces us all in his love that saves and consoles.