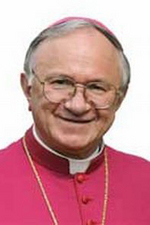 We honor with fraternal solidarity and spiritual closeness those who faithfully and sensitively observe World AIDS Day 2011. Not many have been unaffected by HIV/AIDS: we know someone directly or have been acquainted with someone who has had the devastating disease of HIV/AIDS. I've known several people who died due to complications of AIDS or know people who live with the disease today. There's 33 million people affected by the disease. How can a heart centered on the Lord be unmoved by our brothers and sisters who struggle to live with uncertainty?
Archbishop Zygmunt Zimowski, 62, the President of the Pontifical Council for Health Care Workers, wrote a letter on today's observance. He notes some good stuff; challenging stuff for some, but things we need to grapple with if we are sincere in our pursuit of truth, goodness and beauty. His thinking in other places has asked for the international community to come together and work on diseases that are pandemic in nature because it is a matter of global security and solidarity. The Archbishop's letter follows:
Pontifical Council for Health Care Workers
on the Occasion of the World AIDS Day 2011
The World AIDS Day of 2011 must constitute a new opportunity to promote universal access to therapies for those who are infected, the prevention of transmission from mother child, and education in lifestyles that involve, as well, an approach that is truly correct and responsible as regards sexuality. In addition, this is a privileged moment to relaunch the fight against social prejudice and to reaffirm the need for moral, spiritual and - as far as this is possible - material proximity to those who have contracted the infection and to their family relatives.