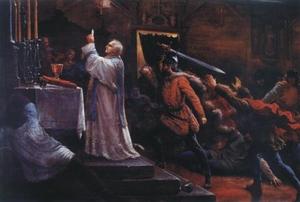 Saint Stanislaus of Krakow ( July 26, 1030 to April 11, 1079 ) was martyred by King Boleslaus II himself, who had to leave Poland in exile.
The young Stanislaus was well educated in theology and canon law from the university in Paris, allowing him to have an interesting career in the bishop's court as preacher and archdeacon to the bishop. Later, as bishop, Stanislaus was a man who concentrated on a Christian's conversion to the Lord, and sought to have the Polish people live according to the Gospel; being conformed to Christ crucified, risen and present in the Eucharist are marks of this saintly bishop; he became a voice against political crime and social injustice. As such, it was Blessed Pope John Paul II who called Saint Stanislaus the patron saint of moral order. His virtues of humility, generosity, courage, strength and faith are to be imitated.
Stanisław was one of the earliest native Polish bishops and he is the first native Polish saint, revered today as a patron saint of Poland, an honor shared with Our Lady and Saint Adalbert.
Since 1969 revision of the liturgical calendar, Stanislaus' feast day is observed today, but it was observed on May 7 and on May 8 in Krakow.
Saint Stanislaus of Krakow, pray for us.