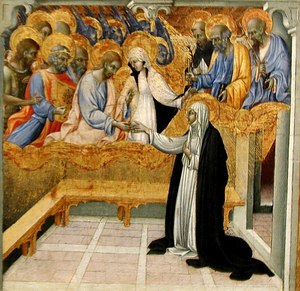 Saint Catherine of Siena writes:
I want your security to be in Christ gentle Jesus. He has clothed us in the sturdiest garment there is, a garment of love....The very first garment we ever had was love, for it was only by love that we were created in God's image and likeness.
(Letter 185-86)
When I think of Saint Dominic I immediately think of Saint Catherine of Siena. She is an attractive and inviting personality, unique among many of the church's holy ones.
When in Rome you ought to visit her tomb at Santa Maria sopra Minerva. Among the Dominicans, Catherine was a Dominican Tertiary (a lay person who had permission to wear a distinctive garb).
In 1970, the Servant of God Pope Paul VI honored her with the title "Doctor of the Church," one of 4 women with the same title. With St Francis of Assisi, Catherine is a patron saint of Italy. Catherine is credited as one of the people to have ended the Western Schism.