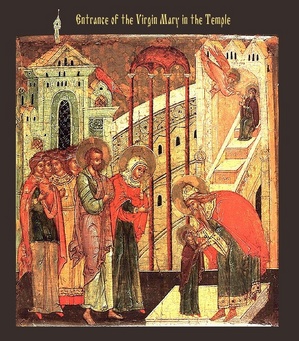 The liturgical memorial celebrated today is an odd feast for some in the West: The Presentation of the Blessed Virgin Mary; in the Byzantine East it's sometimes referred to as the
Entrance of the Virgin in the Temple
. A slight difference with no real distinction.
Liturgical history tells us that the feast was observed in Jerusalem in the 6th century. A church was built to Mary's honor. In the West the feast was introduced in the 11th century but it has disappeared for a time from the Church's calendar and then in the 16th century it was given to the Church to be observed universally.
The tradition of the Church --that is, it is only spoken of in apocryphal literature-- is that the parents of Mary, Saints Joachim and Anna, praying for the miracle of a child received from God a baby they longed to have: Mary. Their prayer and vow to God was dedicate the child to Him, and His service. One slight possible problem. Jews at this time in history only brought to the Temple their baby sons, not their baby daughters. At least that's what some scholars of the Law taught. This unhistorical account of Mary's presentation known to us from the Protoevangelium of James gives the churches a liturgical observance. Nevertheless, little did Mary's parents realize what it meant to fulfill their promise of dedicating their daughter in the Temple to God's service. Salvation history would never be the same.
Psalms connected with the Presentation in the Temple: with lighted candles: Ps. 44/45: 14-15; 119/120 to 133/134.