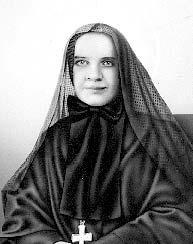 Mother Frances Cabrini, the first US citizen to be canonized by the Church spent a night with the Benedictine sisters at Mount Saint Scholastica in Atchison, Kansas.
Recorded: "In the winter of 1902 the new convent and the new chapel had a special visitor. Mother Frances Xavier Cabrini, traveling west, stopped over night. Sister Barbara loved to recall: 'She was a very nice ordinary Sister. She liked coffee.'"
from The Meaning of the Mountain, by Sr. M. Faith Schuster, O.S.B.
(Mother Cabrini was on her way to Denver to care for the Italian immigrants.)
Saint Frances Xavier Cabrini once said,
"We must pray without tiring, for the salvation of mankind does not depend on material success; nor on sciences that cloud the intellect. Neither does it depend on arms and human industries, but on Jesus alone."